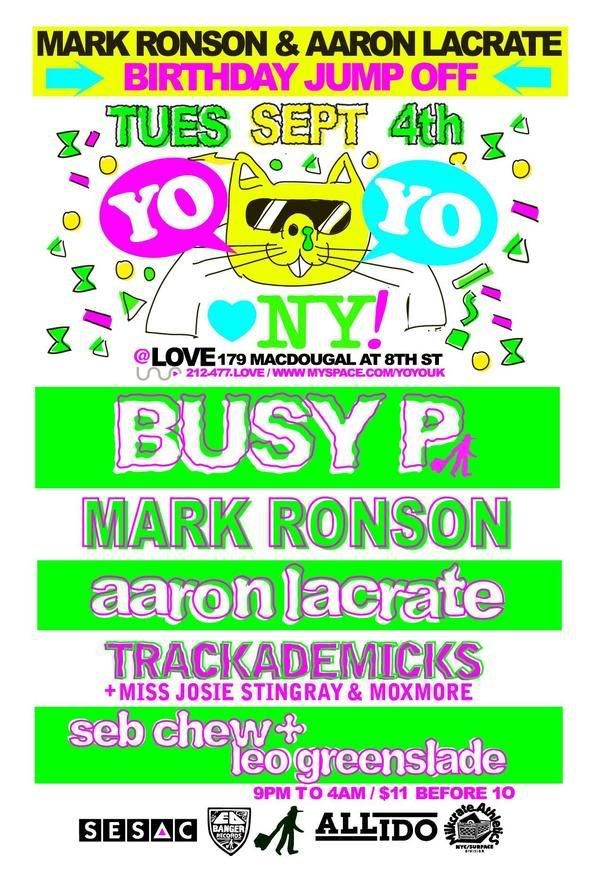 cause i'm a dumbass.
about a month ago aaron lacrate hit me up about gettin' my folk together for his and mark ronson's birthday bash. he wanted trackademicks & family for the show and i was more than happy to set it up on our end. thru all the planning i never thought that the show was 3 days before my birthday. i never thought about promoting this as my birthday too. not a once. prolly cause my head was so far from thinking about my birfday and parties. but oh well, the important thing is that 1/2 of my bay area folk will be coming out to nyc to rock with aaron, mark & company.
so if you're in nyc, please come out and have a good ol' time with us ..
and buy me a pre-birthday drink!
anyway, here's the details:
aaron lacrate
&
mark ronson
birthday "jump off"
@
love
, 179 macdougal at 8th street
with
aaron lacrate
&
mark ronson
on the wun's & too's
featuring a live performance by ..
trackademicks
miss josie stingray
moxmore
with
dj tap.10
on the help out.
also featuring ..
busy p
seb chew
leo greenslade