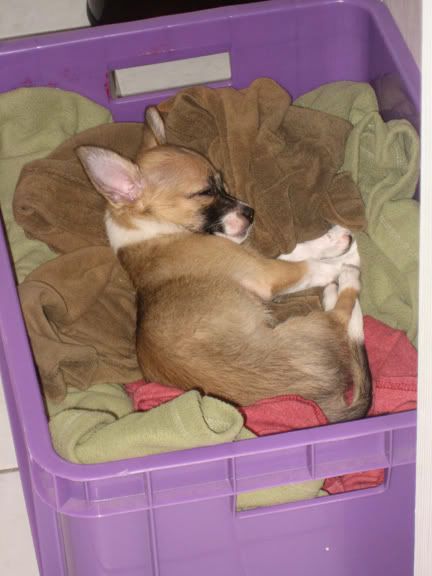 so my uncle, aunt and their two kids just moved back up to nyc after a 5 year stint down in florida. they came up with a ton of furniture, their 5 year old poodle, Lucky, and their 3 month old shitzu-chihuahua, Angel. unfortunately, my lil cousin gabby's asthma acts up whenever she's around Angel so they had to get rid of her. enter Bella & me. we decided to give Angel a home. so last night we brought her home and she's been running around here discovering her new home.
we weren't real big fans of the name Angel but we'd kinda feel like slave masters (your name is TOBY!) if we changed it now that she's gotten used to it so we're just gonna leave the name. i wanted to name her grace jones so now that's her full name, angel grace jones. fuck that dogs can have full names too!
but yeah, i promise not to become one of those dog people. no outfits, no lil doggie rain boots and no lv doggie bag. i swear to god, if you see me with any of the above, kill me. if she's ever dressed like this ..
kill me.
but yeah, we got us a puppy ..
now we gotta train her ..
wish us luck.