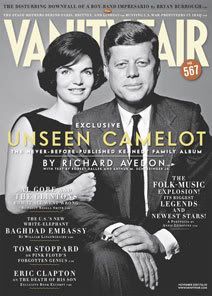 so about a week and a half ago Bella brought home the latest
vanity fair
, which i love, but of course i didn't get my hands on it till a couple of days ago because she was using it as her commute entertainment. but after the rapper invasion (photos coming soon) of our apartment on friday i read the serge gainsbourg article, i finished reading the lou pearlman article this evening and i've already started on the clinton/gore article. so far this issue is pretty damn amazing.
the serge gainsbourg article is basically a tour through his home (which no one, outside of family, has seen the insides of since his death in 1991) and it includes words from daughter charlotte, jane birkin and many others. the lou pearlman piece is crazy. of course, it touches on the hundreds of millions of dollars that pearlman embezzled and it delves into the inappropriate/sexual relationships that pearlman had with his boy band members. the clinton/gore write-up is just as interesting as it speaks on the tension between the clinton and gore families that led to bill and al's relationship falling apart.
aside from those i have yet to read the camelot piece that was taken from the journals of arthur schlesinger which is accompanied by never before published photos of jfk and jackie o with their kids, taken by richard avedon. i also haven't read the articles on u.s. war profiteers, eric clapton on the death of his son, pink floyd's syd barret, and the piece on stage mothers of paris, britney & lindsey (i think that's gonna be my next read cause it seems like the mothers get torn a new ass in that article).
so um yeah .. i guess this whole entry is just an endorsement. all 3 of yall that read my blog need to go out and get this issue cus it's pretty damn dope.